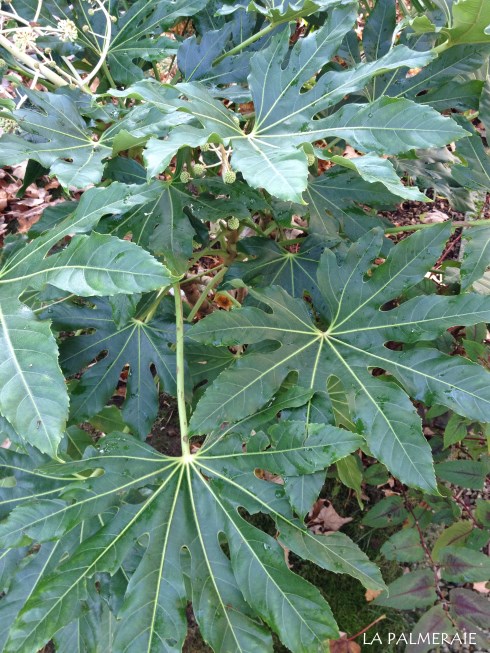 Common name:
Glossy-leaf paper plant
Origin: Eastern-Asia
Foliage: Evergreen, large leathery palmately lobel, 20–40 cm (7.9–15.7 in)
Growth: shrub
Flowering: small, white, borne in dense terminal compound umbels in late autumn or early winter
Exposure: Part shade to full shade
Growth rate: fast
Height: 3 to 4 meter / 10 to 13 feet
Hardiness: frost resistant (USDA 8 – 11)
Culture:
Easy to grow by seed but as the are sold for really small prices it should be more interesting to start directly with a bigger plant.
Care:
This plant can be kept as a houseplant, container plant or in the garden and this in principle at any location. Full sun is sometimes discouraged although this has not yet been a problem. However, it is sometimes a bit of a search after the most suitable place, where it hardly grows in one place and suddenly takes a good start after transplanting. It resists quite fine to our winters and therefore doesn't really need winter protection. However, the growth point may rot when it was covered by snow for a while, but other branches / runners just take over. Only in really severe winters some extra protection would be advised. In terms of watering and soil, this plant has no specific requirements.
Use:
The Fatsia japonica is actually sold mainly as a houseplant. We therefore find him in the local garden center at that department. Even on hardiness, the label normally is kept careful and it will only be recommended for the garden as "a second life-option" when it becomes "too big" for indoors. However, this plant can be planted outside directly, where it will do just fine. Its appearance is very exotic and it is perfect to combine with palms, bamboo etc.
There are 3 different varieties in addition to the usual green Fatsia, especially the 'Spider's web' has gained popularity in recent years. The experience here is that the varieties grow slightly slower and seems to be more vulnerable than the green ones.
Fatsia japonica
Fatsia japonica 'variegata'
Fatsia japonica 'Annelise'
Fatsia japonica 'Spider's web'