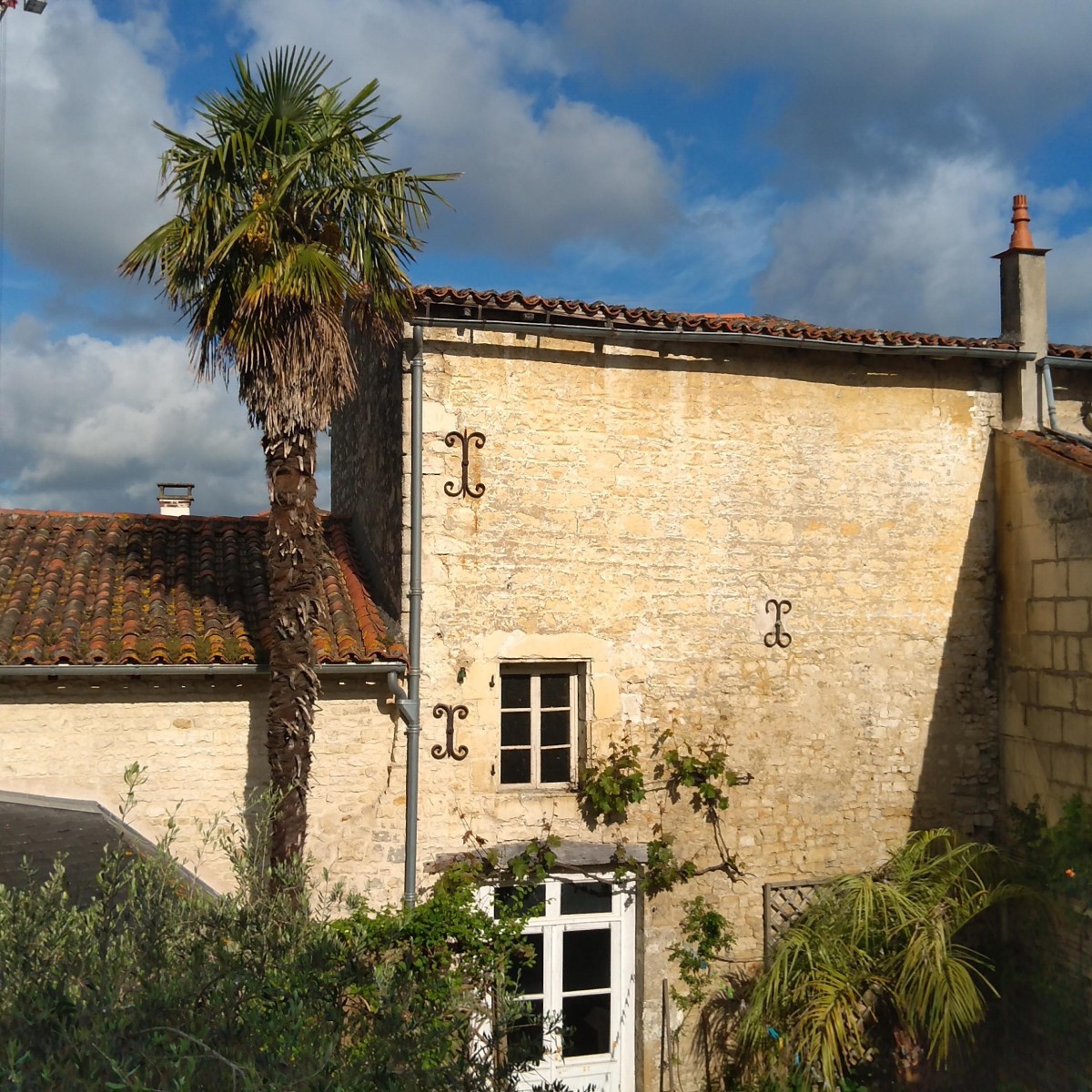 We regularly receive the question which palm tree will not grow taller than 6 tot 10 feet (2 to 3 metres) and whether growth can be limited. After all, not everyone has enough space for a huge palm tree and you want to avoid unpleasant surprises of course. In this article we will give you more insight into which types of palm meet your wishes, what you should pay attention to and which expectations are realistic.

Keeping small by pruning not possible
Unlike many other trees and shrubs in the garden, the growth of a palm cannot be controlled by pruning. The leaves are formed in only one place, in the heart of the palm and if you prune this you end up with a dead trunk without foliage. Some claim that you can limit growth by leaving the palm in a pot. This too is only partly true. The palm will indeed grow a bit slower but the growth will continue. Above all, it will look less beautiful and will need more attention in terms of nutrients and watering. This also applies to palms that are placed in pots in the open ground. It will not restrict growth but will cause problems later on due to reduced support because insufficient lateral roots were formed.
Pick the right species
There are over 4000 palm species but only a handful is really suitable to keep in the garden with a temperate climate. This is what we focus on in this article. For the sake of convenience, we also limit ourselves to those species that are easy to obtain. When choosing a suitable palm, it is advisable to look carefully in advance at what the right properties of the palm are and what exactly the needs of this type of palm are. The desired height of the palm can be such a wish, but also think of the hardness of the palm, the water needs,….
The following articles are certainly relevant here:
Palm trees care
What should I look for when buying a palm?
Can a palm tree be planted next to the pond/terrace?
How to plant a palm tree in your garden
Once you have an eye on a certain species, this article can give a realistic picture of the growth rate:
How old is my palm tree and how fast does it grow?
Below is a non-exhaustive overview of some common species and their characteristics, starting with 2 species that indeed more or less meet the demand of 6 to 10 feet (2 to 3 metres) maximum height.
Chamaerops humilis
(full description)
The European fan palm is a small perennial species that grows more in shrub form because of the offshoots. It is hardy to -12°C/10.4°F and likes the drier sunny location. If there is too much moisture, it is particularly troublesome in winter, which is initially manifested by black dots on the leaves. It requires no special care and growth is rather slow. The leaf stalks have sharp spines, keep this in mind in places that are frequently walked past. Ideal for smaller gardens and also very suitable for pots on the terrace or balcony.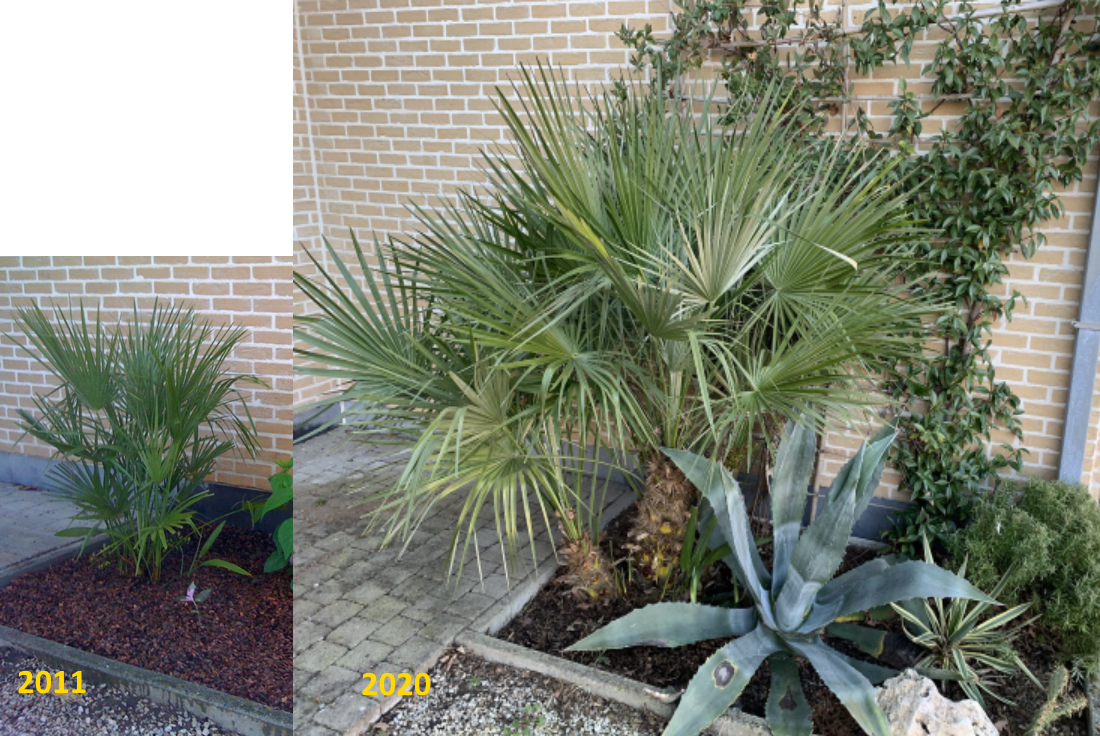 Trachycarpus fortunei
(full description)
The Chinese windmill palm is actually the palm of choice for almost any garden. Although the final height is about 12 meters it will take many years before the palm is actually that big. So don't be put off by this. We estimate that the Trachycarpus at the very top of this article is at least 30 years old. The pictures below illustrate the effective growth best. It is striking that smaller planted palms grow much faster than palms plantend when they were already large. It's an extremely easy palm that grows well in almost any place. It is hardy down to -18°C/-0.4°F and therefore doesn't really need any real care. It grows best in open ground but can also be kept in pots if desired. Due to its narrower appearance it fits even in smaller gardens.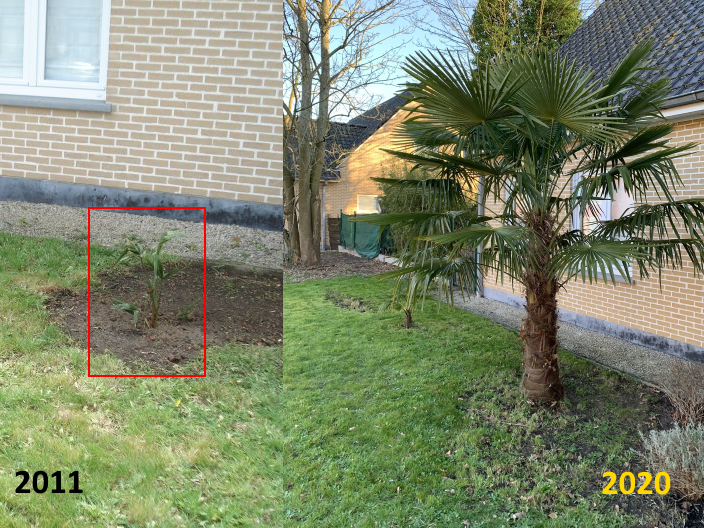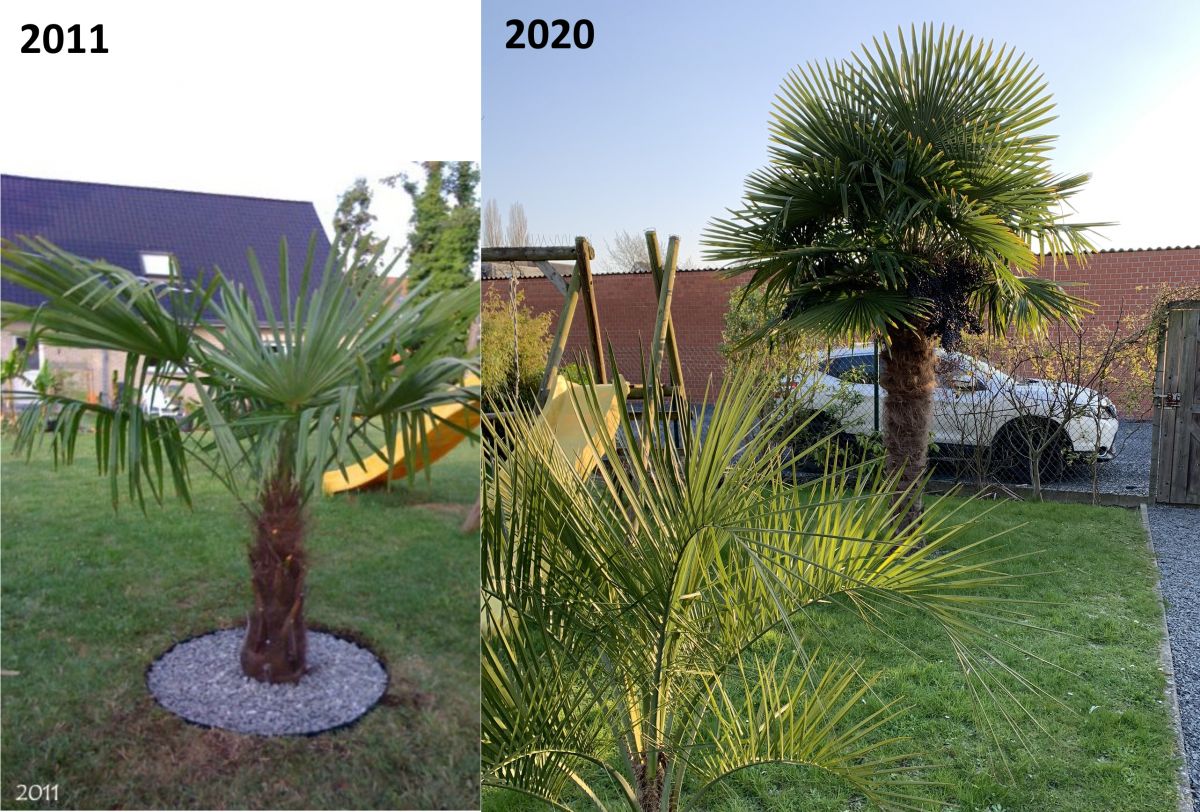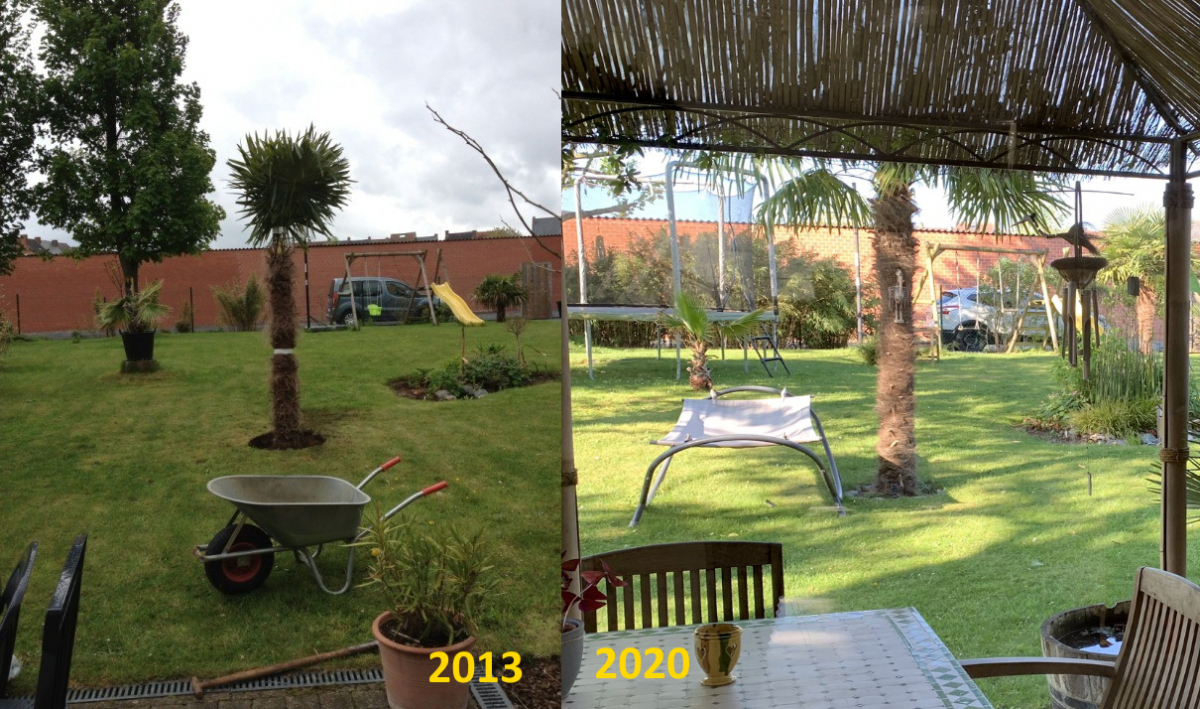 Alternatives
Possible alternatives to palms that do not grow too big too quickly and do not require too special care are
Jubaea chilensis
This palm grows very slowly and is therefore a lot more expensive. It is hardy to around -12°C/10.4°F but needs to be kept dry during more extreme winters. Although it can become very substantial over time, its slow growth makes it a beautiful palm, even for the medium sized garden.
Butia odorata
A beautiful palm that is hardy to around -12°C/10.4°F and therefore only needs protection during the colder winters. It grows relatively compact, which makes it easy to place even in the smaller garden. However, the palm is less common and is commonly sold under the name Butia capitata.
Less appropriate…
Phoenix canarienis
(full description)
The Canary date palm is often offered for sale as a small specimen in supermarkets, DIY stores and garden centres. However, this is typically a palm that quickly becomes unmanageable in size. It grows relatively fast, especially once it's really established in open ground but is only hardy to -6°C/21.2°F, so with the exception of very mild winters it always needs protection. A beautiful palm but only suitable for large gardens and mild climates or for enthusiasts who have no problems applying the protection which is a huge job once it's bigger. It also does well in pots but will still continue to grow well, so the pot will become too small after a while. It can withstand root pruning so it can be kept in the same pot a little longer.
Washingtonia robusta
(full description)
The Mexican fan palm is another typical palm that often appears in advertising leaflets as a small specimen. However, it grows very fast and needs little specific care. Due to its limited hardness, – 4°C/24.8°F and its generous size after a few years, planting is only recommended for enthusiasts who know what they are getting into. Sooner or later it will become too big to protect and then a slightly harsher winter can be fatal.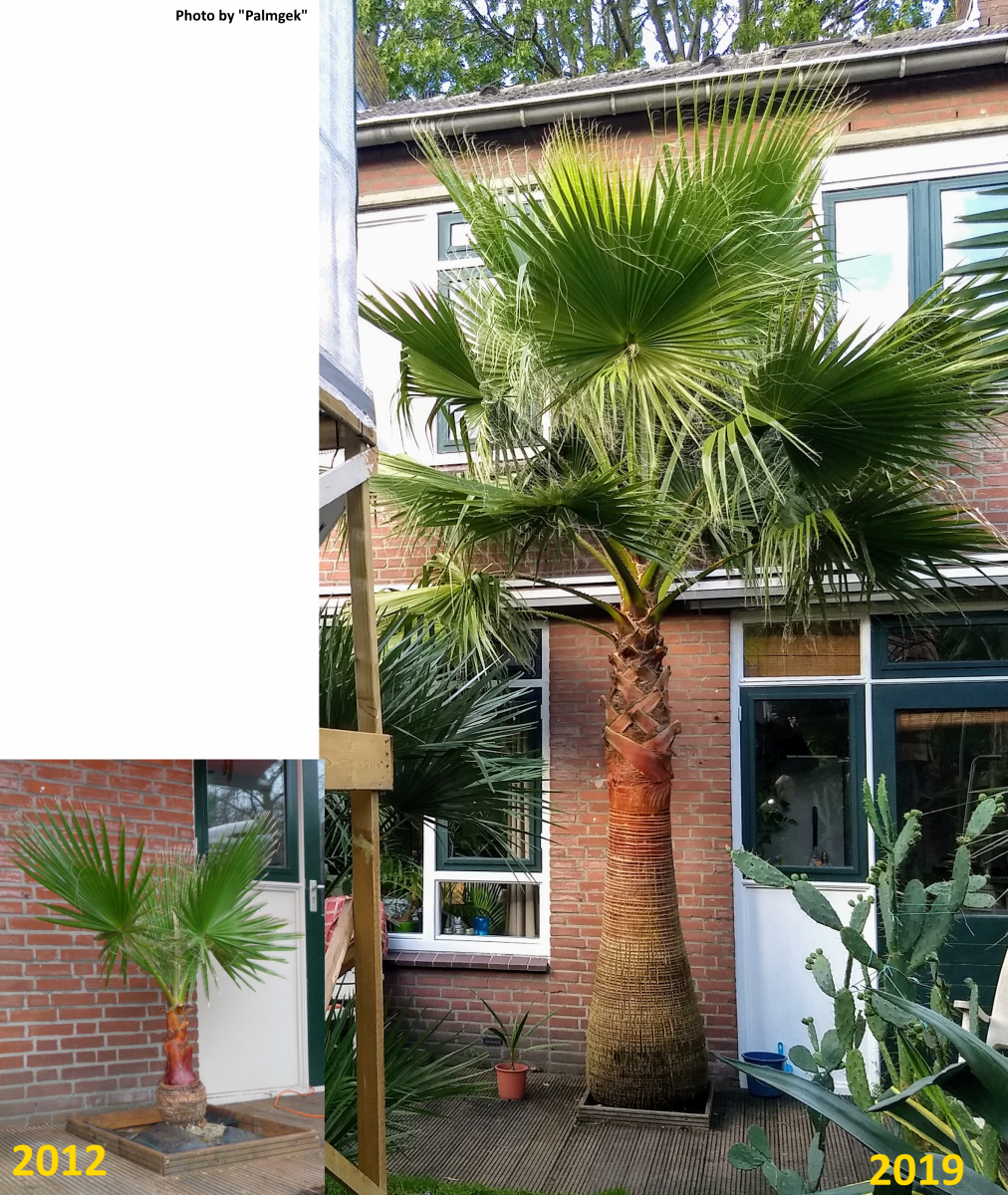 © La Palmeraie