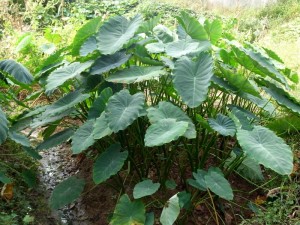 For some time now we have been found of the elephant ear or Colocasia esculenta. These eye-catching plants are easy to maintain and give an exotic look to your garden throughout the summer. Did you know that it is very easy to come across? In this article we tell you how!

The Colocasia has been cultivated in Asia for thousands of years but is also popular in Africa and Polynesia. For this reason, these Taro corms are simply for sale in the local toko (: neighborhood shop with exotic products – in the Netherlands, often Asian / Antillean in Belgium and France mostly Arabic). It is enough to buy some fresh Taro corms. This costs up to only a few quid. If they are out of stock, they can be ordered.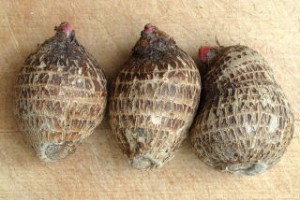 To make the corms germinate follow the following steps. Always keep it as clean as possible and handle the products minimally to prevent molding as much as possible.
Step 1:
Put the Taro corm in a freezer bag and breath in to it a several times. Once the bag is filled with damp air, close it up and put the bag away on a warm place
Step 2:
Follow up the development on regular basis. If a corm molds it must be removed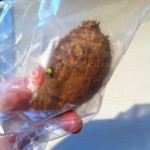 Step 3:
When the corms have a few buds and roots they can be potted. Cover them completely with a well drained soil mixture and put them on a warm place again. The first leaflet will soon be visible.
© La Palmeraie