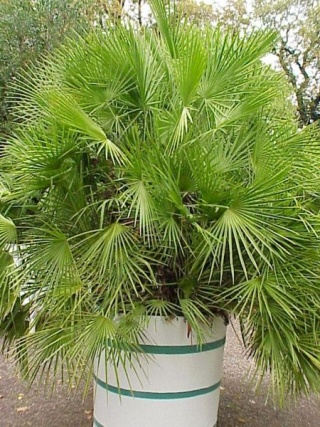 Common name: European fan palm
Origin: Mediterranean sea area  (France, Spain, North-Africa)
Foliage: Palmate up to 50 cm (1,7 ft), with spines on the petioles
Stem: Covered with fibres, shrub-like clumping palm, with several stems growing from a single base
Exposure: Full sun, partial shade
Growth rate: Normal
Height: 3 meter / 9 feet
Hardiness: -12°C / 10,4°F
Culture:
As this palm originates from southern Europe, it is well suited for our climate. It does need a well-drained place to avoid a soil too wet during winter. It  also will produce fruits and so seeds in our climate, sometimes already when you buy one! These seeds can perfectly be sown. During the summer months, you can increase watering even though it  does withstand drought really well. During the winter months, it is best protected from humidity and needs more protection when it freezes more severally.
Use:
Very popular palm for planting in in the garden in our climate because of its high frost resistance and simple care. The Chamaerops is initially relatively small and has a shrub-shaped appearance due to multiple stems at its base. As a result, he is often used in borders, etc. Older subjects eventually will form a higher stem. Then its appearance is closer to the Trachycarpus, although the old petioles on the stem are much more prominent, the leaves are much smaller and the Chamaerops has spines on its petioles.
Varieties:
Chamaerops humilis 'Arborescens' – single stem which gains more in height
Chamaerops humilis 'Cerifera' – more compact, blue-grayish leaves
Chamaerops humilis 'Vulcano' – very dense crown with wider folioles.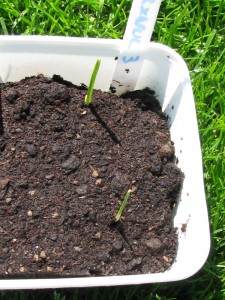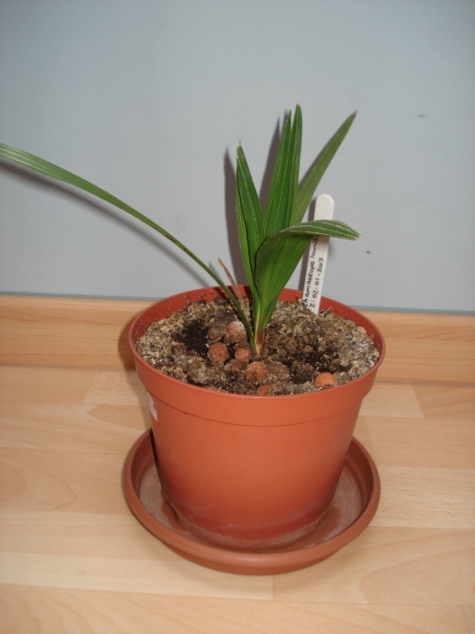 photo above: Chamaerops humilis – 2 years old