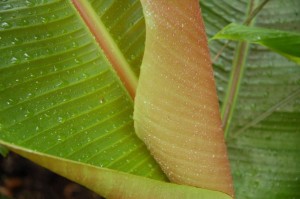 Common name:
Darjeeling banana
Origin: North-east India, Buthan
(Himalayas up to 2000 meters altitude (6561 ft) )
Foliage: top green, underneath reddish. Up to 1 m 50 (44 ft 11 in) and more resistant to wind than the Musa basjoo leaves.
Fruit: smalle edible bananas but filled with seeds which make them less interesting for consuming.
Exposure: Full sun, partial shade
Growth rate: Fast
Height: 4 meter / 13 feet
Hardiness: -12°C / 10,4°F
Culture:
The Musa sikkimensis is easy to sow. Seeds germinate quickly and there is a high germination rate if the seeds are sufficiently fresh. However, you can easily propagate it by cutting its pups. You should also be able to find this banana in more specialized garden centers.
Care:
Like the Musa basjoo, the Musa sikkimensis grows best in a sunny place in a nutritious but well drained soil. However, the sikkimensis needs higher temperatures than the basjoo to grow. The Musa produces pups through its rhizomes. The plant hole can optionally be limited by a barrier but this isn't a must as the pups can be cut away without any effort. For good growth it needs a lot of water. On hot, dry days, a daily water gift is definitely no luxury. During the growing season, fertilizers may be added regularly as well.
Winter protection:
The hardiness only concerns the roots. At temperatures below 5° C (41°F) the growth stops. At -2°C (28,4°F) the leaf freezes. With constant frost, the stem, which contains a lot of moisture, will also freeze and be lost. The Musa then dies down to the ground and in spring (April / May), it will shoot from new pups again. However, in order to get a bigger plant and get it to bloom it has to survive the winter. Also see: How to protect your banana plant during winter
Use:
The Musa sikkimensis is especially popular with the enthousiast thanks to its combination of hardiness, beautiful colors and the fact that it can easily be sown as well.
Varieties:
Musa sikkimensis 'Darjeeling Giant' – more robust than the sikkimensis
Musa sikkimensis 'Manipur' (Red Tiger) – dark striping on the top of the leaves